Volleyball Mottos to fire up the team
Feel good motivational sayings

The following volleyball mottos are fun and inspirational.
Volleyball Mottos for T-shirts...
Can you dig it?

All heart
All Hustle
All the time

Be happy... play volleyball

Hard work beats talent when talent doesn't work hard.

Mind over matter... because in our mind, you don't matter.

Volleyball is life.

Whether you believe you can or you can't-you're right.

Scared Hitless.

Love at first spike.

Rejection... blocking someone so hard that it knocks grandma off the bleachers.

Big hearts, little shorts.

I'd hit that.

Do or do not, there is no try.

Bump it, set it, spike it, that's the way we like it.

I'll never turn down good sets.

Volleyball players... you can hit on us, but you can't score!

Pass...set...crush!

Talk to the hands!

Volleyball is my life, everything else is just details.

I bust mine so I can kick yours.

Use these volleyball mottos to help your team get mentally fire up and playing hard.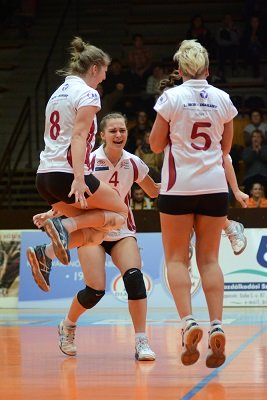 ---
Quotes by Famous Sports Figures
Tara VanDerveer
I learned how crucial a teacher can be in nurturing or ruining a student's passion. A teacher needs to find the trigger inside each student that releases his or her best work. - Tara VanDerveer, Head Coach, Stanford

Donna de Varona
I found out from my own experience that the best way to involve my daughter, Joanna, in sports is to participate with her. Recently, a mother asked me how I got my children to swim laps. The truth is, I've never asked my children to do laps. They see me do laps and want to do it with me. Parental participation is one way. - Donna de Varona

John Kessel
In volleyball there are many reasons for errors but not a single excuse. — John Kessel

Flo Hyman
To be true to one's self is the ultimate test in life. To have the courage and the sensitivity to follow your hidden dreams and stand tall against the odds that are bound to fall in your path. Life is too short and precious to be dealt with in any other fashion. This thought I hold dear to my heart and I always try to be true to myself and others that I encounter along the way — Flo Hyman, 1984 Olympic volleyball silver medalist

Gene Mills
This I say-be the best, Be yourself and not like the rest.
Work real hard to be real tough,
And remember that 100 percent is not good enough.
Set the impossible as being your goal,
Then reach deep inside from within your soul.
All you've got Is all you could ask,
To give your all to achieve this impossible task.
- Gene Mills, wrestler

John Kessel
Volleyball is like going to church ... many attend, but few understand. —John Kessel

Hope you enjoyed these volleyball sayings and famous quotes!
If you enjoyed these tips and would like to keep it close to you at any time, just save this pin to your Pinterest Volleyball Training Board.

---
Volleyball ›
Volleyball Quotes
› Volleyball Mottos
---