LESSON 9:
4 Steps to a Better Low Back
Here are 4 steps that will improve your volleyball back strength by developing core stability and hip mobility.

Step 1: Core Stability

Step 1 focuses on improving core endurance.

You must use perfect technique (neutral spine, hips extended).

You must pass these basic tests…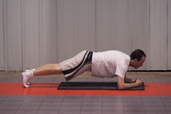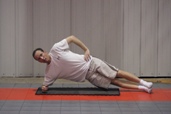 Once you are able to perform these exercises with perfect form in the required time, you can move on to Step 2.

Hip Mobility

Do isolated work where there's no stability demands. Everything is "ground based".

Example, Supine Straight Leg Raise Exercise – Lie on your back and raise one leg straight up. You can place a folded towel under your lower back to help round. This gets the focus on using the hips. Repeat with opposite leg.

---
Step 2: Pelvic Alignment

1. Improve Pelvic Alignment

Use the force coupling concept. Get muscles on the front side of your hips to work well together to promote motion with the muscles on the back side of the hips. Hip flexors in the front pull down, while the spinal erectors in the back pull up.

2. Isolated Core Work

Example, Ab Wheel Exercise.